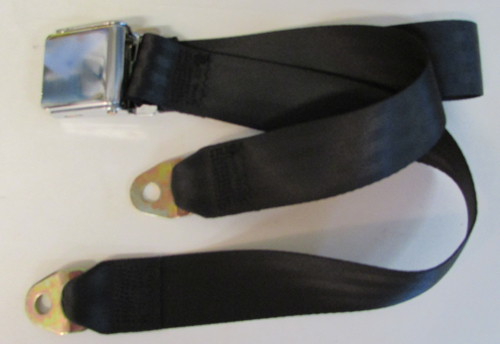 Front Retrofit Kit: With Vintage Chrome Lift Buckle
(Click On Picture To Enlarge) 1964-67 Coupe And Convertible Front Seat Retractable Lap With Shoulder Harness Retrofit Kit requires the drilling of two small holes in each door jambs in order to attach a supplied plate with threaded stud using supplied rivits which is used to attach the shoulder harness strap upper bracket to. Kit includes retractable combined lap seat belts with shoulder harness for the driver and passenger with installtion hardware and instructions.

Product Notes: Click On Picture To Enlarge

Special Order. Allow additional 5-7 business days for production.
Buckle: Lift lid release with chrome lid and underside. Measures 2 1/8" x 2 1/2".
Rear Seat Belt Length 60": Adjustable latch side 36". Fixed buckle side 24".
For product questions or ordering assistance call (302)629-8508.
201K Rear Seat Belt Retrofit Mounting Kit includes zinc chromate bolts, washers plus threaded underbody reinforcing plates to add support to the mounting points which should be used when seat belts are being installed in a location they were not previously dealer or factory installed.