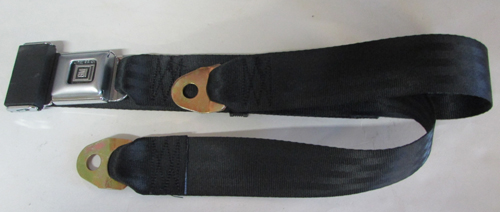 Non Retractable Lap Belt
Product Notes: Click On Picture To Enlarge.
Anchor End Fittings: Chrome flat with 1/2" mounting bolt holes.
Buckle: Metal with GM Mark Of Excellence framed in silver on black background.
Length 60": Adjustable latch side 36". Fixed buckle side 24".
201K Retrofit Mounting Kit: Includes replacement zinc chromate bolts, washers and threaded body reinforcing plates which should be used when factory underbody reinforcing plates are damaged or missing. Bolts included will not fit factory reinforcing plates.
For product questions or ordering assistance call (302)629-8508.