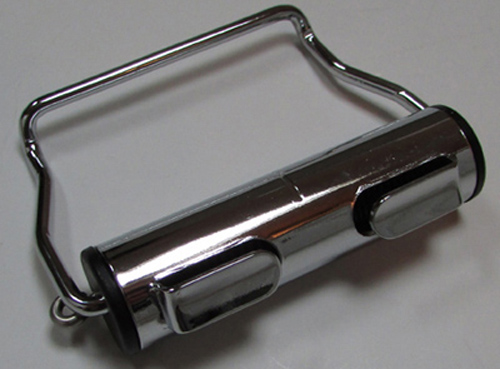 Clip-On Webbing Seat Belt Retractor
The starting bid amount is for one seat belt clip-on webbing retractor.
To purchase one or more of this item now Click Here.


Clips on to the webbing on one side of a non-retractable lap seat belt to add retractability.
New. Can be removed and re-installed. Installation instructions included.


To view our complete product line of seat belts and seat belt hardware Click Here.


Auction Terms And Conditions
Free shipping is within the CUSA,lower 48 only and applies to this auction only.
"Buy It Now" orders have a $7.99 flat rate per order handling charge.
We reserve the right to select USMail or UPS as the shipper.
All sales are final. No refunds.
In the event of a defective product an exchange with a like product will be made.

Credit Card Payments:

Payment is required within 5 business days of the auction end date.
Call (302) 629-8508 between 8-5 EST Monday-Friday.

Feedback Policy: Feedback will be posted immediately after feedback has been posted by the buyer. If for any reason you are not satisfied with your purchase notify us immediately. Negative feedback left prior to allowing us to resolve any issue will result in negative feedback for the buyer do to the buyers failure to comply with a condition of the auction.

Liability Disclaimer:The Andover Companies, and its subsidiaries assumes no responsibility for any damage due to the installation, either proper or improper, or for any damage or bodily injury arising from the use of any product. It is understood that the purchaser, installer and/or end user is responsible for the determination that the product purchased is suitable for its intended use and agrees to indemnify and hold The Andover Companies,Inc and its subsidiaries, harmless for any claim, action or demand arising from the installation and/or use of any product. There are no guarantees or warrantees on any product, implied or expressed, of fitness for a particular use with any such warrantees being specifically and expressly disclaimed. In the event any of the above limitations are held not enforceable our liability shall not exceed an amount equal to the amount paid to us for the product. Receipt of product or products confirm acceptance of disclaimer and liability transfer to purchaser, installer and/or end user.

All information detailed within this document is based on information believed to be accurate but accuracy is not guaranteed.All pictures,diagrams and item descriptions are protected property of The Andover Companies,Inc and are not to be duplicated in any manner without written permission.

(CR1 10-15-12)